Welcome to Monster Home Services
Locally owned and operated by Nate and Jamison, best friends for over 40 years, Monster Home Services LLC is proud to be the patio enclosure and gutter company you can count on to deliver the results you desire for your project. Serving Gallatin and it's surrounding areas, Monster Home Services LLC has the proficiency and know-how needed to take on any project relating to your gutter services and screen rooms. For more information about the services we offer, contact Monster Home Services LLC today!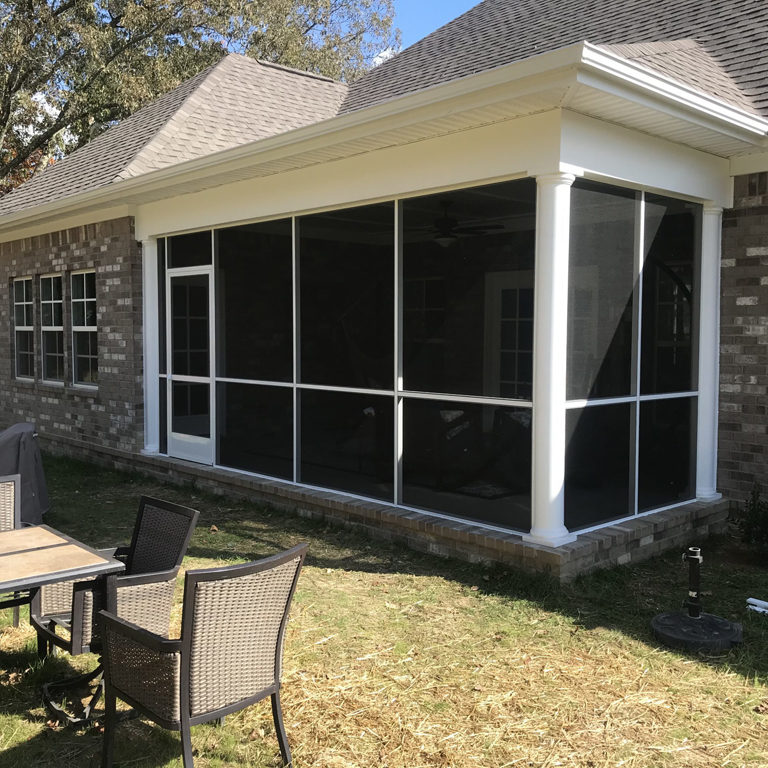 With Monster Home Services LLC, you will always be ready for the rainy season with quality installed and maintained gutter guards or leaf filters.
We offer only the best serviceability for your gutter and screened porch needs, you can trust that Monster Home Services LLC has the best experience needed to outperform your expectations. Locally serving Gallatin and the surrounding areas, Monster Home Services LLC is proud to be the gutter company you can rely on for premium work done to your home.
Want a Covered Patio, Screen Porch, or Retractable Screens? Those are our Specialties in addition to our gutter services.
Let our exceptional team of professionals demonstrate what top quality workmanship and customer service look like with our residential gutter services and patio covers. With our commitment to your satisfaction and making your home more enjoyable for any season, you can always expect an end result that makes your dreams a reality. For more information about projects we tackle, contact Monster Home Services LLC today!
Benefits of Choosing Monster Home Services LLC

Clever design with our Seamless Gutter installers.
Strong materials: our aluminum gutters are 20% heavier than the industry average.
Careful installation: gutter systems are installed every two feet with watertight screws
Clog-free warranty Call for a free quote on gutter installation
You need to have good, working gutters on your home. Without them, the rain will spill down the fronts of our homes, soaking siding and pooling around the foundation. Water collecting anywhere leads to microbial growth, including mold and mildew leading to unhealthy conditions inside the home. Water collecting around the foundation of a home is even more serious because it leads to serious structural problems. So gutters are definitely needed on every home, but why choose Monster Home Services LLC for gutters?
For years, we've been putting in extra work into learning, researching, studying and perfecting the best gutters for your home. Our gutters are built for strength, quality, and durability so they will last on your home for years to come. Monster Home Services LLC takes great pride in installing gutters that will be maintenance-free for the life of your home.
Eliminate the risks involved in gutter cleaning
Eliminate year after year costs of gutter cleaning
Extend the life of your gutters
Avoid birds, rodents, and insects from making your gutters their nesting ground
We have been expanding the elegance of homes and the function of gutter system for years. Our unique gutter solutions offer quick results for gutter problems. Our clog-free, durable design will eliminate damage from overflowing gutters, preventing leaks and roof damage. Custom cut to fit the exact size of your home, the tough aluminum and thick hangers will stand up to the harshest weather Tennessee has to offer and will not have those ugly seams.
Have you considered installing gutter screens as a cost-effective means of covering your existing gutters? If you have the typical style of open gutters and have become tired of climbing up ladders to remove wet clumps of leaves and debris, you are not alone! Monster Home Services LLC provides an economical fix for covering your existing gutters with screens, saving you time and keeping you safely on the ground!
The Best Patio Enclosure Supplier in Sumner County
The only 5 Star Google rated Patio Cover Installer in Gallatin
From metal patio covers, to aluminum patio covers, to wood patio covers, we can cover it all!
Enjoy unlimited patio enclosures ideas by working with us.
At Monster Home Services, we use aluminum products so they will never rust and will offer you years and years of maintenance free enjoyment. Patio Covers extend your outdoor living space and enjoyment. Patio Covers provide shelter from the sun and rain.
Patio covers are great for protecting your patio furniture, entertaining your guest outdoors, and outdoor cooking. There are many different styles of covers that are designed to suite your home and your budget. A new Patio Cover is the answer to your problem.
Get advice from the best screened porch installers in Sumner County
5 Star Google rated out of the Screen Porch Companies
Screen in a patio and spend more time comfortably outdoors
Get a FREE Quote to find out how much it cost to screen in your patio!
Monster Home Services LLC is proud to be the team you can count on to make your home's outdoor area functional and comfortable for any season of the year. Monster Home Services will customize your screen enclosures to be the perfect fit for your screen room or screened in porch. Give us a call if you want your home to be more enjoyable throughout the changing seasons.
We offer a wide range of patio screen enclosures and screen room systems that will be perfect for your lifestyle. We offer Aluminum Frame Systems, Retractable Patio Screens, Standard Insect Screens, Solar Screens, and Pet Screens. We have so many options to meet your specific needs for a screen porch in Gallatin.
Welcome to the lovely city of Gallatin, TN! This good ole southern town is just 30 minutes outside of Nashville. Although this town is not located close to downtown, it still has many of the activities and components that a big city has. If I had to describe Gallatin in a single sentence, I would say it has all the benefits of a bigger city, while also having the benefits of a southern town. What I mean by this is that it has many job options, amazing homes to start a family or new chapter in your life, low costs in terms of taxes other items, and etc. 
 Now that you have a mini general overview of this lovely town, let me tell you some of the things that are located in the town. Gallatin has some of the best restaurants that cook mouthwatering and tasty homestyle southern food as well as other cuisines. They also have many country clubs, recreational centers, and etc for all the social butterflies. There are many great indoor and outdoor locations where you can plan many of your events. If you have a family, there are many new and affordable starter homes. However, if you are wanting to size up, there are several luxurious neighborhoods. Gallatin is also one of the safest places to live in Tennessee. Gallatin PD takes pride in this fact. There are also many activities for all ages. For example, there are parks, shopping centers, sporting complexes, city pools, and much more. Overall, this town is well-rounded and the ideal place to move to whether you are wanting to start a new chapter in your life, a new family, or retirement. If anything, you must visit Gallatin, and I guarantee you will fall in love with the sweet and humble town.
5540 Clarksville Pikes
Joelton, TN 37080
Monday - Saturday 9:00am - 5:00pm