When you begin planning your sunroom, you'll find that there is a vast array of options available. Even with such a simple choice as the type of the sunroom, you can choose from enclosing an existing patio or deck, adding a new sunroom, or even converting a regular room in your house into a sunroom. To properly plan the sunroom and create a place you and your family will enjoy, the first step is considering how you want to use the space.
Some Ideas for the Use of Your Sunroom
Why go through the expense and effort of adding a new room to your house if you haven't decided why you need it? As such, the most important thing to consider is how you'll be using your sunroom. To get the enjoyment you want out of your sunroom investment, it's best to know what you and your family are going to use the new space for.
Lounge/Entertainment Area
Usually, sunrooms are made to be lounge or entertainment areas where families can relax. To make your sunroom be an area in which you can entertain guests and relax with the family, you'll want to have things like couches, a dining table and chairs, or perhaps even a television in the sunroom.
Workout Area
If you like to exercise and stay in shape, making your sunroom into a home gym can result in a perfect, tranquil, private environment in which to enjoy your workouts at any time of the day.
Indoor Swimming Pool
Having your sunroom be an indoor swimming pool can be the perfect choice if you want a space where you can swim year-round, especially in colder regions. Swimming pools double as great workout areas as swimming is a quite popular form of exercise. You could even combine an indoor swimming pool with a lounge area; imagine a pool surrounded by lounge chairs, inside and away from the bugs and volatile weather, a place you can enjoy rain or shine.
Office or Study
Using a sunroom as a study or an office isn't the most common choice, but it's definitely worth considering if you like the notion of working in an area with plenty of natural lighting, or if you hate being stuck in a walled-in office all day.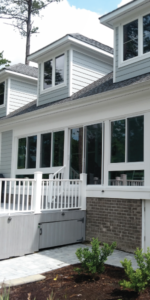 Garden/Greenhouse
A sunroom can be a great greenhouse or garden area. It provides you with the perfect place to keep your plants safe from bad weather conditions like hail and cold temperatures, as well as nasty insects such as aphids. Not only that, but having indoor plants improves air quality. As such, your sunroom could make for a lovely garden area. You could use your sunroom-garden as a butterfly sanctuary, vegetable garden or flower garden. Depending on how big your sunroom is going to be, you could even have some shrubs or small trees! Adding some chairs and a small table to your garden area could turn it into a lovely place to enjoy breakfast in the morning, too.
Hobby Spot
Have a hobby like sewing or painting, or anything else that requires you to have a designated hobby space? Your new sunroom addition might create the perfect spot for you to enjoy your hobby during your off time.
When considering how you'll use your sunroom, it's all up to your personal needs and preferences. So simply consider for a bit about what sort of space you'll want most, and you'll be well on your way to planning the greatest sunroom to grace your house!
Planning Your Sunroom
Once you've made your decision on how you're going to use your new sunroom, you'll be able to hammer out the details of the space to suit your needs.
Size
An indoor pool area with a barbecue and bar requires a much larger sunroom than a study or office or a hobby space, so ensure you plan your sunroom's dimensions to fit its intended purpose. An oversized sunroom will look empty and unattractive, and be more expensive, whereas a too-small sunroom will feel something like an office cubicle, cramped and uncomfortable. Make sure to pick the right sunroom size!
Natural Light
The amount of natural light you'll want to let into your sunroom will vary depending on what you'll be using it for. While an entertainment room, indoor swimming pool or dining area can be a pleasant space with bright sunlight streaming in throughout the day, you'd probably want to soften the natural sunlight if you're looking to build a hobby room or home office. When building a sunroom, it's very important to plan it on a side of your house that is often sunlit. If you build the sunroom in a shaded area, it isn't exactly going to be a sunroom.
Electricity Outlets
When planning out your sunroom addition, it's easy to forget that you're probably going to want electricity outlets in the space. While outlets are less important if your sunroom's going to be a barbecue area or garden, they're often essential if you've set your eyes on a home gym or office space.
Fortunately, there are plenty of sunroom choices, enough to suit any need. Options for sunroom design include choosing between a partial sunroom with more shade, a screened-in porch, or transforming an existing room by adding new windows for brightness.
In order to make sure you get a sunroom that lives up to your dreams, it's necessary to speak with a sunroom professional to learn about all of your options and plan a sunroom that suits you and your family. If you've decided to add a sunroom to your home, go ahead and contact Monster Home Services for advice, ideas, and a quote for crafting and installing your perfect sunroom.