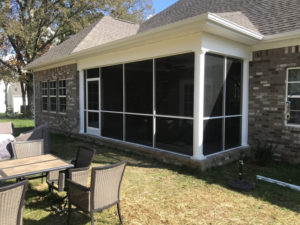 Screened in Porch Options and Prices
So how much might a screened-in porch be?
Most homeowners will either decide to screen in an already existing porch or will build a brand new addition just to have a custom screen room on their house. Both have plenty of new and interesting options available to them with a rather wide price range.
Building a screen room onto an Existing Deck
Expect to pay somewhere between $500 and $2,000 for quality screened in porch materials able to cover 200f of porch space.
Installation costs will range somewhere from $300 to $700.
In the end, you are going to want to expect a price tag in the range of $1000 to $2,200.
You can expect to pay somewhere between $500 and $2,000 for screened in porch materials able to cover 200 feet of porch space. A $1000+/- starting point should give you everything you need for a basic physical barrier between the porch and the elements. This can reach upwards of $3,500 for the more complex options. There are options like screen walls, tracked screens, and even retractable awnings that may also be considered when you are thinking about your final goals.
The installation costs will range somewhere from $300 to $700 depending on the local contractor's cost. A quality screen room builder and Screen Enclosure Installer is worth the investment. In the end, you are going to want to expect a price tag in the range of $1000 to $2,200 for a simple screen room barrier installation. For quality installation by professionals, you should be paying somewhere between $2,200 and $5,000. Now, of course, building a whole new deck and barrier will be much more expensive, but can also provide a more extensive assortment of customization options, and add great home value.
Constructing a Screened in Porch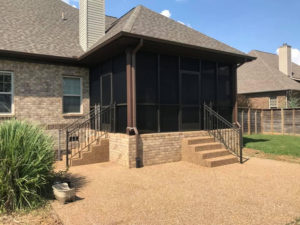 These costs will vary drastically depending on your home, the size of the construction, and your preferences. A common example is a wraparound porch with windows and screens; that can reach upwards of $30,000. However, the typical price for a new screened-in porch area runs roughly $70 per square foot. An average deck itself will usually cost about $33 per square foot. A patio (not connected to the house) will be a bit less at around $20 per square foot. A covered porch with optional screening will cost an average of $73 per square foot. Lighting, fans, and additional features like that will significantly increase the price you pay. A Screen Enclosure Installer pro will be able to give you various estimates. In addition to the material costs, homeowners should make sure to budget somewhere between $300 and $500 for city permits and additional sudden costs.
Choosing Your Flooring
The floor you choose can also majorly affect both the price and durability of your underlying construction. Most wood floors will run cheaper but will also be less resilient when dealing with the elements and sunlight a screen room allows. Rain and sunlight will take their toll on wood. Some woods, like Brazilian hardwood, is very hardy but can increase your costs. Most opt for a wood/synthetic hybrid floor to keep costs low and durability high.
At last count, there are over 22 variations of possible floor materials being sold today for use in screened in porch construction. All were created or are used to accomplish a specific set of goals. This means it is worth it to take the time and research the perfect floor for your project. You want to make sure it is the perfect fit for you.
Not ready for a screened in porch just yet? Maybe a patio cover is a better solution for your home.