As the seasons change and the weather becomes warmer, having a sunroom and patio screen enclosure will not only help you maximize the beautiful Tennessee weather but also add value and benefits to your home. If you are interested continue reading the blog down below for more information.
Sunrooms vs Screen Enclosures
Many of you may be wondering what is the difference between a sunroom and a screen enclosure. Sunrooms are additional rooms that are added onto the backside of the house for more natural light and air to come in. These rooms typically have big windows and are spacious rooms for outdoor and indoor entertainment. Screen enclosures are custom built and added to the outside of your sunroom, patio, or any room. This will replace any windows or glass panels you may have. These screen enclosures allow for the sunlight and air to come in and give you the outdoor experiences without the bugs or harmful UV rays bothering you. The rooms with this add-on are great for children and pets as they will allow them to reap the benefits of being outdoors while being contained. This would also make for a great entertaining space whenever the weather is not ideal for outdoor activities. Having a screen enclosure has many benefits, the biggest one being that it will add tremendous value to your home and property.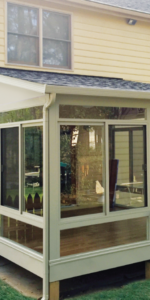 The main question many people wonder about is how much does a patio screen enclosure cost? The answer is not that simple. It all depends on many factors such as the size of the room, the location in which you live, the materials and types of equipment that will be used, how long the project takes to finish, and the quality at which you want it built. However, if you are interested, you can contact Monster Home Services for an estimation. Give them a call or visit their website.
Here are some factors that will better help you determine the price of your screen enclosure:
1. The type of enclosure: If you are wanting a simple screened enclosure, it will be the cheapest option. However, not many people will only want that one project done. There are many other factors to consider such as installation of windows, insulation, doors, different wall sections, and many other amenities. These items will contribute to the overall cost of the project.
2. The size and quality of the enclosure: This is generally a given, the larger the screen enclosure, the more expensive it is. The same goes for the quality of the work and project. For a well-done job on the overall project, the highest quality of materials and the highest level of professionalism are required. The last thing you want to worry about is if your contractors are trustworthy and if they will complete the job correctly and on time. If you hire Monster Home Services, you will get an excellent price while getting the best professionals to get the job done. You will never get any complaints about them. If you do not believe us, just ask around in the Nashville area about the best screen enclosure contractors and most people will refer you to them!
3. Materials: Once you get your enclosure done, you will want to get a roof over the room. The cheapest option is to get asphalt shingles, the second tier has dimensional shingles, the third tier is metal roofing, and the last and most expensive is aluminum shingles. All the materials will provide good coverage for the room and enclosure, but certain materials will protect against damage and last longer. Another aspect regarding materials is what the flooring is made of. If you install tiles, during certain weather, they can become sticky or slick. This can be a potential safety hazard. If you install wood, it can become damaged and over time need to be replaced. Therefore, most professionals will recommend pressure-treated lumber. This will be ideal for all situations including pets having accidents, children spilling and creating messes, and all weather conditions.
4. Electrical: Many people do not take into consideration running power into their screen enclosure. If you do this costly add-on, it will definitely pay off, especially during the fall and winter months. If you have an amazing view, you will be able to enjoy it all year around. Even if you do not, you will reap the many health benefits of fresh and natural air. With electrical, you can also enjoy having the popular string lights, a heating unit, or an air conditioning unit. All these things are extremely beneficial in locations that experience all four seasons.
5. Location: The location in which your home or business is located plays a huge role. For the bigger cities, contractors will have high prices due to the surrounding economy. The general rule is in the city, items are priced more due to higher salaries. If you live in a smaller area or town, the prices are generally lower due to more competition. If you have over five contractors with the same specialty and not a huge population, you can explore more options to see where you will get the best price. The smaller towns also have the advantage of knowing most people in their community and can get honest opinions and reviews.
These were some of the major factors that play a role in deciding your screen enclosure. After looking over all these factors, you may be thinking that this is only an expensive project that will only last while you stay in that home, but what if I told you that you could benefit from it after you move or sell? A screened enclosure will actually add more value to your home especially when it comes to putting it on the market. If you are located in a nicer area and if your home has a view, the value will be the highest. The reason behind this is that homeowners often want multipurpose rooms. Your project can serve as a space for relaxation, entertainment space, and a playroom for both children and pets. By having a sunroom with a screen enclosure, you will not only get to enjoy it while you are in that house, but if you decide to sell it, you can also share those memories with the next owners. This will set your house apart from many others.
If you are considering having a screen enclosure put in, give Monster Home Services a call or email and they will send out their best contractors for an immediate estimate. Monster Home Services is proud to present their services to the residents of Middle Tennessee. Monster Home Services employs qualified professionals for home projects such as installing sunrooms, patio screen enclosures, and much more. If the numbers work out, you can discuss a plan for a consultation and designing process. You can count on their professional team to get the job done on time and to your satisfaction. After that, watch your dreams and visions come to life. Within a few weeks, you will be able to sit back and relax while enjoying the great outdoors. Trust me, this is a decision you will never regret!