Welcome to Monster Home Services
Our local business was founded by two friends Nate and Jamison. Not only have these two been friends for more than 40 years, but they created excellent products to ensure your gutters and patio are well-maintained. Our business is built from the ground up with dedication, hard work, and trust! We are now serving the Franklin area! If you are looking for professionals to help you with any gutter issues or screen rooms, give Monster Home Services LLC a call today!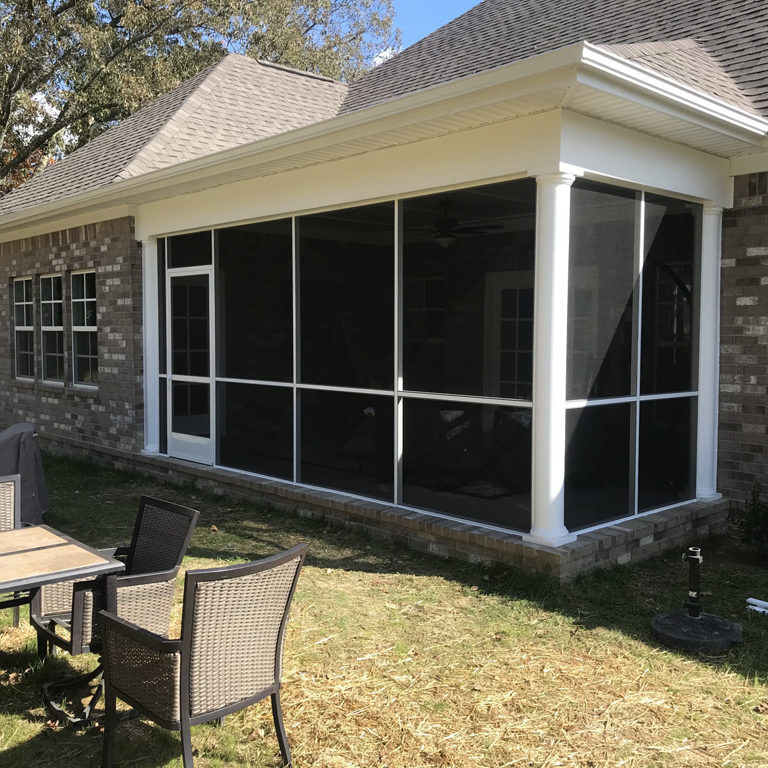 With Monster Home Services LLC, you will always be ready for the rainy season with quality installed and maintained gutter guards or leaf filters.
You will not be disappointed in our service. We are the professionals you can trust into your home and expect us to get the job done quickly and with the utmost quality. Nate and Jamison along with our team, take pride in every project Monster Home Services LLC completes and are proud to be one of the finest gutter companies in all of Middle Tennessee!
Want a Covered Patio, Screen Porch, or Retractable Screens? Those are our Specialties in addition to our gutter services.
If you are interested and would like to see what all projects Monster Home Services LLC offers and can help with, contact us or visit our website. You will not find a better and more experienced team of trained professionals that demonstrate what the best workmanship and customer service in the industry looks like with our residential gutter services and patio covers. Our main goal is to make our customers happy and fix any of their issues! You will be shocked at the overall results and will always keep us on speed dial for any other issues that may arise.
Benefits of Choosing Monster Home Services LLC

Clever design with our Seamless Gutter installers.
Strong materials: our aluminum gutters are 20% heavier than the industry average.
Careful installation: gutter systems are installed every two feet with watertight screws
Clog-free warranty Call for a free quote on gutter installation
Has it ever rained and then the next thing you know is that you are having gutter issues? You need to have proper gutters to ensure this does not happen. When water runs down the side of your home, it can lead to ruining the appearance of your house. It can also lead to unwanted bacteria and fungi which can potentially go through your central air unit and lead to health issues. Another thing that can happen is it can be a hotspot for all the insects. The worst-case scenario is when it leaks down into the foundation and causes foundational damage which can collapse your entire house. These are the reasons why you need proper gutters, and here is why you should choose Monster Home Services LLC.
Nate and Jamison ran into a gutter problem of their own before this company started. They quickly realized all the products found in the stores were useless. The two of them created a homemade solution that ended up working so well that they decided to take it a step further. After much research and hard work, they reached out to a manufacturer to start producing their reliable and durable products which have now changed the gutter game.
Eliminate the risks involved in gutter cleaning
Eliminate year after year costs of gutter cleaning
Extend the life of your gutters
Avoid birds, rodents, and insects from making your gutters their nesting ground
As time goes on, we continue to perfect and add more products to our company. One of our best sellers is the gutter solutions we offer! They will make sure your gutters are clog-free. These solutions will withstand the crazy Tennessee weather and will not affect the appearance of your home. In fact, it would only add value to your home by keeping it free from gutter damage.
If you already have proper gutters, consider looking into gutter screens. Although this is an extra add-on, it is worth it in the long run. This will end up saving you more money than you would have thought. It will save you time as well. Gutter screens are great for when you want your gutters completely free of any type of debris. Contact Monster Home Services LLC today because we will provide an economical fix for covering your existing open gutters with screens, saving you time and keeping you safely off the ladder!
The Best Patio Enclosure Supplier in Williamson County
The only 5 Star Google rated Patio Cover Installer in Franklin
From metal patio covers, to aluminum patio covers, to wood patio covers, we can cover it all!
Enjoy unlimited patio enclosures ideas by working with us.
At our company, we use the best materials available for the job. Aluminum products are the best because they require almost no maintenance and will not wear as quickly. Unlike other materials, it will not rust either. Our patio covers will offer you protection from the blazing sun, rain, or wind. They are also ideal for all your outdoor furniture from your sitting area to outdoor cooking equipment.
Monster Home Services LLC has many options that will not only fit your decor perfectly but also your budget! Patio covers are a great way you can enjoy your patio all year round, no matter the weather.
Get advice from the best screened porch installers in Williamson County
5 Star Google rated out of the Screen Porch Companies
Screen in a patio and spend more time comfortably outdoors
Get a FREE Quote to find out how much it cost to screen in your patio!
If you prefer to have a
Franklin TN screen enclosure
, we can also install that as well. Just like the patio covers, we will come out to your home and get all the measurements and give you an estimation. Once you approve, we will customize-built the perfect screen enclosure for your home! We are proud to offer our services to our amazing customers.
If you are in the Franklin area or nearby, check out all of our services. There is a broad range from patio screen enclosures to screen room systems. These additions will add that special touch to your home. There are many options to choose from such as Aluminum Frame Systems, Retractable Patio Screens, Standard Insect Screens, Solar Screens, and Pet Screens. If you are not sure which one is the right fit for you, give us a call and we can help you out!
Franklin is a city just south of Nashville, in Tennessee. A key site of the American Civil War, it's home to 2 properties exploring the 1864 Battle of Franklin. This area has a very unique blend of history and new growth. The area was founded in 1799 and was named after Benjamin Franklin. For most of its first 180 years, Franklin was a quiet, small county seat. In the years prior to the Civil War, Williamson County was one of the wealthiest counties in Tennessee, and Franklin the center of the plantation economy. Two Presidents made visits to Franklin and three Secretaries of War were from the immediate area. Franklin is a unique blend of history and progress. You'll find the best of both worlds here: small-town charm and big-city sophistication. In 2009, The National Trust for Historic Preservation awarded Franklin with the title of Distinctive Destination for offering an official visitor experience by combining dynamic downtowns, cultural diversity, attractive architecture, and a strong commitment to historic preservation. In the same year, the American Planning Association named the downtown Franklin area a top ten great neighborhoods for its outstanding historic character and architecture. This is thanks to the meaningful protection measures the City has adopted to ensure Franklin's unique presence is not compromised by future growth and development. As you can see, Franklin holds some special facts and history in its roots. Approximately 78,000 people live in Franklin. In 2017 the U.S. Census ranked Franklin as the 8th fastest growing city in the Nation.
Five of the top attractions of Franklin include the following. Recording studios are a great, cozy place and many people like to stay weekends in them. Many people enjoy watching the live music in Leipers Fork. You can also enjoy the sunrise from the Natchez Trace Parkway which is so stunning. The distilleries are well known in the area and some enjoy sipping Tennessee Whiskey. One of the best places is the downtown area, it is such a fun area to explore with so many places.
5540 Clarksville Pikes
Joelton, TN 37080
Monday - Saturday 9:00am - 5:00pm