Why get a sunroom? A sunroom is a great place to relax after a hard day's work – it's hard to beat a view of the natural world quite literally just outside while you settle down with your favorite book. Not surprisingly (it's in the name after all), one of the important things about a sunroom is the windows. At Monster Home Services, we recommend being well-organized before you start your sunroom venture. When your sunroom is being built, you'll be glad to have made a plan ahead of time for where everything is. Below you'll find some advice on how to make a sunroom the best you can get.
Eagle-Eyed Financing
What's the first thing you do when you plan a new construction? We don't know, but we do know financing should be very high on that list. The price of any possible sunroom you're considering could be quite small – maybe even under $10,000 – while it could just as easily be well over $100,000. Individual sunrooms have their own unique prices.
Supplier Check
Now that you have the financing down, it's time to consider who you'll have install your sunroom. Sunroom suppliers come in many different flavors. A local or regional contractor is a good pick. A contractor from your area knows the local materials, structures, and terrain well enough to hand-craft something that will work even better than you expect. Your prospective installer should also have experience with adding windows to a room, as that's one of the focal points of a sunroom. Obtaining and inspecting references is also a good idea; we at Monster Home Services will be glad to provide references if you want them.
Room Facing: Sunward
A sunroom should be arranged based on local climate conditions and the sun's heading throughout the year. General prescriptions in the matter find southeast to be a good sunroom direction, but you want local, not general. Vitality produced is another factor, says Energy.gov. High vitality can reduce heating and cooling expenses.
What Do You Really Want?
You now have a financing plan and a supplier to make your sunroom. What's the next priority? Deciding what it's actually going to be like. Perhaps your sunroom is a place to curl up with a book after a hard day's work. Perhaps it's a social centerpiece. Either way, when planning the room itself, figuring out "what am I going do here?" is important. You might decide to introduce an impressive roof and window arrangement, if your sunroom is a social centerpiece. Or maybe all you want is a screen room to be (mostly) outside, while keeping out those bugs.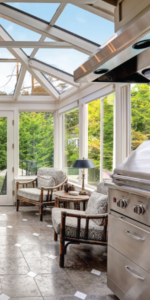 Fun With Paperwork
Regrettably, paperwork is another part of sunrooms, as annoying as it is. Sunrooms are required to meet building codes and construction laws, and getting the proper permits for that is your responsibility. What precisely you'll need to acquire differs from state to state; it may also differ considerably in different regions of the same state, so go as local as you can in this regard. A building license alongside an electrical permit are two common requirements for sunroom building. Exactly what licenses are needed and how you go about getting them should be discussed with your contractor and/or suppliers of choice before building starts.
Décor Designing
We don't know what your vision is, but we'd be happy to have you tell us. Whoever it is you choose in the end, decorating the sunroom is a big part. Some of the subtler elements include carpeting, furniture, windows, electrical fixtures, and similar. The windows (and thus how they're installed) are another element with a large impact on your sunroom. There are quite a few styles of windows: maybe you want your sunroom to have casement and awning windows? Bay and bow windows? Sliding style? Skylights, even? Monster Home Services can provide all of that. Furthermore, here at Monster Home Services we would like to given an assessment on the best materials for your windows. Similarly, we have a list of window installation and/or replacement options that should work for your home. Give us a call, why not?
How Not To Have A Family Feud
There's a good chance you won't be the only person using your new sunroom. New is novel, and novel tends to attract visitors. Go ahead and plan your sunroom to accommodate needs and wishes of family and friends; and you'll be that much better off. We'll send a Monster Home Services specialist over to make sure your sunroom is flawless in this regard, while still adhering to the finance plan you made earlier.
Now that you know how to design (or not design) a sunroom, let's get to it. You'll want to take your time, of course – it would be a terrible idea to leave something unresearched. An important research consideration is that of your local area. You want a sunroom, so you also want window options, roofing considerations, and an experienced contractor. All of that can be achieved by research. Implementing the aforementioned advice will yield a sunroom that's a great addition to your already-established home. We'll be glad to make your acquaintance.