Are you tired of cleaning your gutters from debris or other foreign objects? Are you struggling to keep your gutters from overflowing with precipitation? If you are tired of constantly cleaning your gutters and answered yes to any one of these questions, check out the gutter guard options from Monster Home Services. They have several different types of gutter guards and brands to choose from. Monster Home Services gutter guard products are 10 times better and more efficient than the big box store items. So before you head to your local home improvement store, make sure to check out Monster Home Services and their line of leaf guards!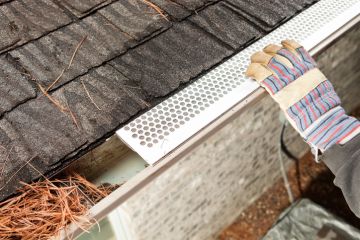 Before you go out and search for which gutter guards are the perfect ones for you, here is why you should go with Monster Home Services. Nate and Jamison have been in the home improvement industry for over 40 years. Not only are both of their skills and experiences combined the best in the whole business, but also their partnership works extremely well together since they have been best friends for nearly 30 years. Their entire business started because Jamison was having issues with his gutters being clogged up with leaves and other types of debris. Jamison explained to Nate that the store brought solutions were simply not working well enough. This was the start of Monster Home Services.
Jamison and Nate created the perfect solution to making sure your gutters are always clean and never clogged. The friends started the process by building a roof panel that had a pump and PVC pipe to create a rain service. Next, they added the gutter and started their testing with products from all around the country. Then after trying for a while, they found the perfect micro-mesh product from a company located in Flordia. Jamison and Nate knew this was the beginning of an amazing and useful product once they installed their first system on Jamison's home.
Which Type of Gutter Leaf Guard is best for me?
Now that you know more about the beginning of this company and its owners and their dedication to fixing all your gutter needs, let us check out which types of gutters guards would be best for you! For those who may not know what gutter guards are, they are the barriers between anything that might clog or damage your gutters and possibly your home's appearance. If objects were to get into your gutter, they could lead to damage to your roof, tiles, decking, and much more. These are the small and hidden things that raise the value of your home when it comes time to sell or the buyers look for when buying their future homes. Most people are now starting to install gutter guards into their homes. Also nowadays when homes are built from scratch, the contractors take this extra but necessary step.
Since there are many types of gutter guards to choose from, here is a mini-guide to give you more insight on figuring out which one would be the best fit for you and your home!
Screen Gutter Guards
The first type is the screen gutter guards. These are the easiest to install and most popular since they are inexpensive. However, since they require no tools to be installed and are not screwed in, they have a high chance of being torn apart or flying away during heavy weather conditions. Also, its wear time is not very long.
Mesh Gutter Guards
The next option is the mesh gutter guards. These are one step above the screen gutter guards, but their downside is that sometimes the mesh requires light cleaning. They are also prone to tearing and being worn out during extreme weather conditions.
Curve Gutter Guards
Up next are the reverse curve gutter guards. These are lightweight and made so that water goes over them and then drops through the gutter. The benefit of this is that all the debris falls right off onto the ground and does not damage your home or gutters. The things to consider before buying this type is that they can be visible, they run a little more expensive, but will last a while. These three are the top three gutter guards in the business.
Gutters Installed by Monster Home Services
Once you decide which type of gutter guard to get, you will need to figure out which brand to get it from. The two brands Monster Home Services recommend and carry are Valor Gutter Guards or Bulldog Gutter Guard. Valor takes pride in the fact their gutter guards reduce the number of times one has to clean their gutters because their guards are that efficient. Valor is also very well-known and has held up to its reputation over the years. The company does an excellent job creating new and up to date products while creating unique and interesting designs. The installation of the gutter guards is very simple as well and the lifetime of these products is outstanding. However, if you were to run into any issues, all of Valor's products come with a 20-year warranty which makes it very appealing to customers as well. The other is an American made brand called Bulldog Gutter Guards. The biggest difference between the two brands is the materials they use to make their gutter guards. Valor uses a variety of different ones whereas the Bulldog Gutter Guard is made out of 98% recycled aluminum. The Bulldog Guarantee is if their products are installed properly, you will NEVER have a gutter clogged again! They are confident that their gutters will remain clear and clean for 25 years. Even though these brands have their differences, they are both top of the line products. Valor and Bulldog Gutter Guard have been vetted and put to the test by Jamison and Nate before using their products. You will get quality with both brands!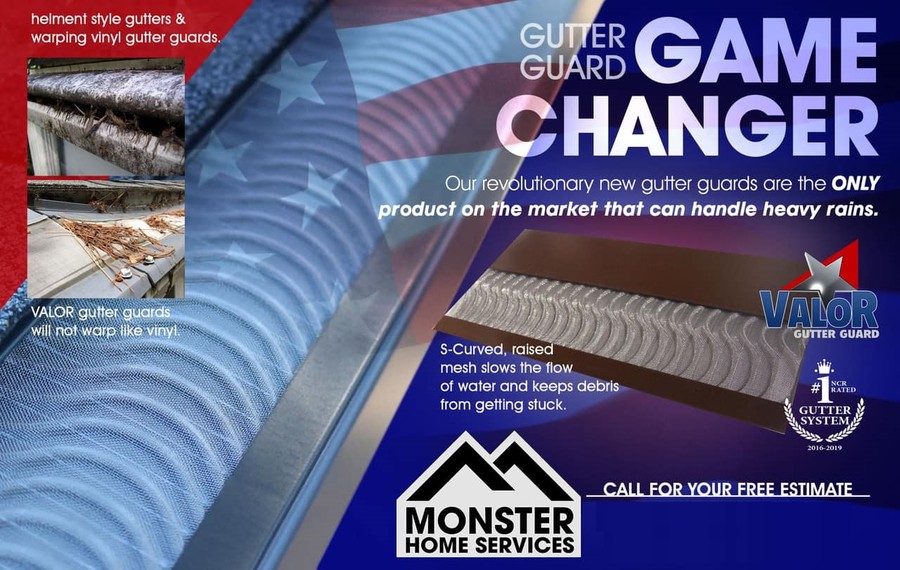 So, the next time you are wanting to get a gutter guard, make sure to choose the type that best fits your needs and location. Next, choose the design and appearance. Then, see which of the companies carry it. However, do not try to install it by yourself, instead contact Monster Home Services for a professional finish. This way if you were to have any issues, they will come out and fix them for no charge. The whole DIY is where most people go wrong and mess up their products along with damaging their gutters, roof, and home appearance. Monster Home Services' headquarter is located in Nashville, TN, so if you are local, be sure to check them out! However, they are always available to serve outside their area. If you need any other help or expertise regarding gutter services, make sure to give them a call or send them an email. Also, if you are interested in installing or updating your patio or deck, windows, or anything below your house, check out their Monster Home Services website. All of their work and equipment is done to the top quality and the utmost professionalism.
Are you interested in getting new gutters for your home? Join us as we talk more about what seamless gutters can do for you!