Welcome to Monster Home Services
Locally owned and operated by Nate and Jamison who are best friends going back over 40 years, Monster Home Services LLC is proud to be the patio enclosure and gutter company you can count on to deliver the best results for your project. Serving Murfreesboro and the surrounding areas, Monster Home Services LLC has the experience and professional team you need to take on any project relating to your gutter services and screen rooms. For more information about the projects we can do, contact Monster Home Services LLC today!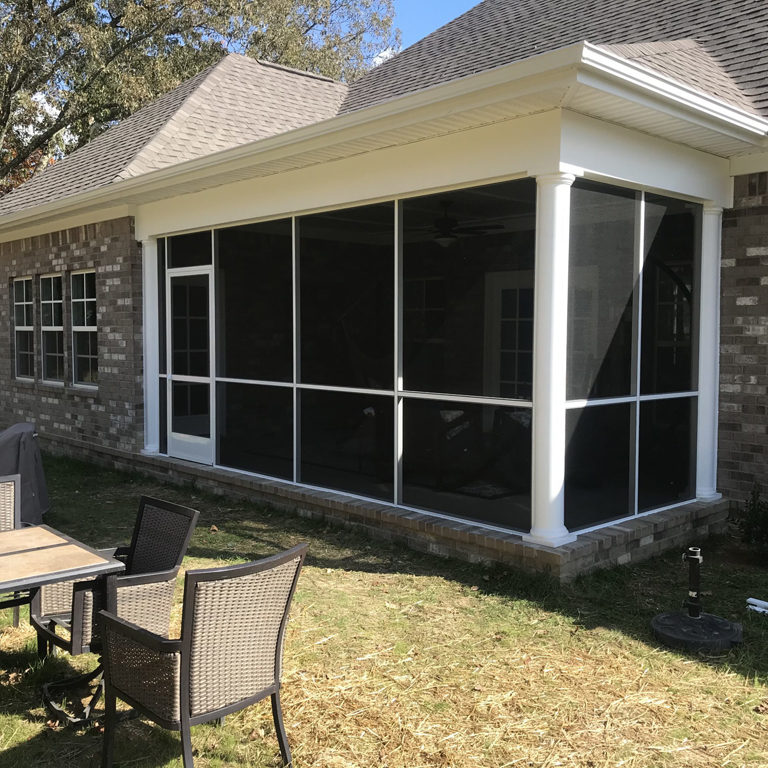 With Monster Home Services LLC, you will always be ready for the rainy season with quality installed and maintained gutter guards or leaf filters.
We offer only our best services for your home's gutter and screened porch needs, you can trust that Monster Home Services LLC has the best experience needed to outperform your expectations. Locally serving Murfreesboro and the surrounding areas, Monster Home Services LLC is proud to be the gutter company you can rely on to go above and beyond on your project.
Want a Covered Patio, Screen Porch, or Retractable Screens? Those are our Specialties in addition to our gutter services.
Let our experienced team of trained professionals demonstrate what the best workmanship and customer service in the industry looks like with our residential gutter services and patio covers. With our commitment to your satisfaction, you can always expect an end result that makes your dreams come to life. For more information about projects we can help with, contact Monster Home Services LLC today!
Benefits of Choosing Monster Home Services LLC

Clever design with our Seamless Gutter installers.
Strong materials: our aluminum gutters are 20% heavier than the industry average.
Careful installation: gutter systems are installed every two feet with watertight screws
Clog-free warranty Call for a free quote on gutter installation
You need to have good, working gutters for your home. Without them, the rain will run down the fronts of homes, soaking siding and pooling in the dirt all around the foundation. Water collecting anywhere leads to microbial growth, including mold and mildew leading to unhealthy conditions inside the home and can even become a breeding ground for insects. Water collecting around the foundation of a home is even more serious because it leads to serious structural problems after the water has washed away the dirt around your home. So gutters are definitely needed, but why choose Monster Home Services LLC for gutters?
For years, we've been putting in the extra work to learn, research, study and perfect the best gutters we can offer for your home. Our gutters are built for strength, quality, and durability so they will last for years to come. Monster Home Services LLC takes great pride in installing gutters that will be maintenance-free for the life of your home.
Eliminate the risks involved in gutter cleaning
Eliminate year after year costs of gutter cleaning
Extend the life of your gutters
Avoid birds, rodents, and insects from making your gutters their nesting ground
We have been adding to the elegance of homes and perfecting the function of gutter system for years. Our unique gutter solutions offer not only quick results, but the best results for your gutter problems. Our clog-free, durable design will eliminate damage from overflowing gutters, preventing leaks and roof damage. Custom cut to fit the exact size of your home, the tough aluminum and thick hangers will stand up to the harshest weather Tennessee has to offer and will not have those ugly seams.
Have you considered installing gutter screens as a cost-effective means of covering the existing gutters on your home? If you have the typical style of open gutters on your home and have become tired of climbing up ladders to remove wet clumps of leaves and debris on a regular basis, you are not the only one! Monster Home Services LLC provides an economical fix for covering your existing open gutters with screens, saving you time and keeping you safely off the ladder!
The Best Patio Enclosure Supplier in Rutherford County
The only 5 Star Google rated Patio Cover Installer in Murfreesboro
From metal patio covers, to aluminum patio covers, to wood patio covers, we can cover it all!
Enjoy unlimited patio enclosures ideas by working with us.
At Monster Home Services, we use aluminum products so they will never rust and will offer you years and years of maintenance free enjoyment outside. Patio Covers extend your outdoor living space and enjoyment for more of the year. Patio Covers provide shelter from the sun and rain for you and your belongings.
Patio covers are great for protecting your patio furniture, entertaining your guest outdoors, and outdoor cooking. There are many different styles of covers that are designed to blend in with your home and your budget. A new Patio Cover is the answer to your problem.
Get advice from the best screened porch installers in Rutherford County
5 Star Google rated out of the Screen Porch Companies
Screen in a patio and spend more time comfortably outdoors
Get a FREE Quote to find out how much it cost to screen in your patio!
Monster Home Services LLC is proud to be the team you can count on to make your home's outdoor area functional and comfortable for any season of the year. Monster Home Services will customize your screen enclosures to be the perfect fit for your screen room or screened in porch. Give us a call if you want your home to be more enjoyable throughout the changing seasons.
We offer a wide range of patio screen enclosures and screen room systems that will be perfect for your lifestyle and home decor. We offer Aluminum Frame Systems, Retractable Patio Screens, Standard Insect Screens, Solar Screens, and Pet Screens. We have so many options to meet your specific needs for a screen porch in Murfreesboro.
Murfreesboro Tennessee is very well known. It is a city and the county seat of Rutherford County, Tennessee, United States. It is also very known for its American Civil War history. Stones River National Battlefield sits next to Stones River Cemetery, where over 6,000 Union soldiers are buried. Serving as the state capital from 1818 to 1826, it was superseded by Nashville. Today it is the largest suburb of Nashville and the sixth-largest city in Tennessee. The city is both the center of the population of Tennessee and the geographic center of Tennessee. Since around the 1990s, Murfreesboro has been Tennessee's fastest major growing city. 
Murfreesboro Tennessee, as of last recorded, has a population of 152,358. It is the 6th largest city in Tennessee and the 172nd largest city in the United States. Murfreesboro is currently growing at a rate of 3.72% annually and its population has increased by 40.09% since the most recent census. It sits at an elevation of 610' and the area code is 615. Their mayor is Shane McFarland. On October 27, 1811, the Tennessee General Assembly selected the location for a new county seat for Rutherford County and gave it the name Cannonsburgh in honor of Newton Cannon, who is the representative to the Assembly for the local area. By the suggestion of William Lytle, it was renamed Murfreesborough on November 29, 1811, after Revolutionary War hero Colonel Hardy Murfree. The name was shortened to "Murfreesboro" in January 1812 when the town was formally chartered. Author Mary Noailles Murfree was his great-granddaughter. 
Some of the places Murfreesboro is highly known for are as follows; Stones River National Battlefield, See this Civil War-era battlefield and cemetery, Oaklands Mansion, Cannonsburgh Village, Discovery Center at Murfree Spring, The Center for the Arts, Carriage Crossing, Mayday Brewery, Hattie Jane's Creamery. This area is populated and sought after, and would be perfect for you.
5540 Clarksville Pikes
Joelton, TN 37080
Monday - Saturday 9:00am - 5:00pm